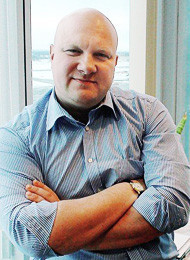 Good Afternoon, Dear Visitor!
It's my pleasure to welcome you at website for company SIA Marina Transport Serviss, Riga, Latvia!
Company is relatively small, energetic multifunctional enterprise with business, concentrated in field of multimodal transportation and logistics.
The history of foundation, forming and development of company is available on page "About Companies".
Company is multifunctional freight forwarder offering full range of services in organization of cargo delivery almost by any mode of transport, in any combination and any direction. Full scope of our services could be found at page "Services".
If you already have cargo to be delivered, just fill in the form for freight calculation at page "Rate Request". Our reply will be as prompt as possible subject to full information is supplied from your side regarding the cargo and terms of delivery.
For our permanent customers we offer the possibility to get actual status of their cargo location right from the Website. Operational information exchange and history of their shipments with us is also available here. All this possible at secure page "For Customers". We supply our customers with unique Login and Password for this page, which give access to information meant for them.
Our customers opinion about quality of our services is highly important for us. Any constructive response, being sent to my direct e-mail address regarding degree of satisfaction in our services, will be highly appreciated. Assure You no one message will remain unattended.
Besides that, we accept with thanks any official reviews about job was done by us. They will be placed on page "Reviews".
Page "Gallery" will show the pictures of our completed jobs and delivered cargos.
True professionals with high education level are working in our company. You find their contact details at page "Contacts". In first turn our services are oriented to wishes and demands of our valuable Customers. I personally guarantee with my own name quality, accurate and professional work of any employee in our Company.

Yours faithfully,
Gennady L. Kolotilov,
General Manger.